INSPIRATION AROUND EVERY CORNER — WHEELZ
Jun 11, 2019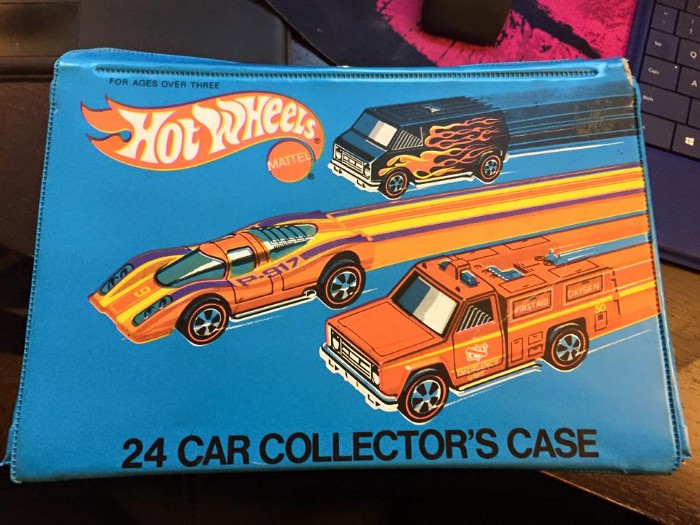 My childhood Car Collector's Case
I was in my local Marina del Rey Ralph's grocery store and came upon two giggling and very excited young women in front of an impressive Hot Wheels display. A longtime devotee (As you can see, I still have the blue plastic Hot Wheels case jammed full from when I was a kid) so I stopped to check out the display.
I asked them what they were so excited about, and they said, "We love Hot Wheels, and this is the one we're looking for — we're buying them up for all our friends who are in wheelchairs like we are — it's so cool." The car was the Hot Wheels "Wheelie Chair" which was inspired by the real chair Aaron "Wheelz" Fotheringham uses. I told them about my childhood favorites: the pink Charlie's Angels van and sparkly purple dune buggy (and yes, they had heard of Charlie's Angels).
I hadn't heard of Aaron, so the women schooled me. Known for extreme stunts, "Wheelz" launched a chair like the Hot Wheels model off a 5-story high ramp, landing with a kind of terrifying front flip. Mattel launched their Wheelie Chair last November and Fotheringham posted about it on his Instagram: "With the all-new Wheelie Chair by Hot Wheels, you too can experience the fun and excitement that only comes with life on wheels." The Hot Wheels packaging features Fotheringham doing a handplant at the top of a skatepark bowl and his signature "Wheelz."
Aaron is also famous for inventing WheelChair MotoCross (WCMX), which is like BMX, except on four wheels instead of two. He holds four Guinness World Records and has recorded the world's first wheelchair backflip. Aaron's father Steve Fotheringham has written a book about his son called Wheelz, which contains this anecdote: ESPN once asked Aaron to define spina bifida. His response: "A great opportunity."
"Consumed by the simple but logical belief that riding is more fun than walking, Aaron turned his wheelchair into a toy, playing and practicing on it until there was nowhere he couldn't go. After beating his peers in every BMX competition he could enter, Aaron became the unicorn of the Nitro Circus team — the ultimate dream of every BMX rider and skateboarder."
"The effect Wheelz has on the crowd is out of this world. I mean, we have the superstars of action sports, and more people come to see Wheelz than anybody else." — Travis Pastrana, -X Games gold medalist and Nitro Circus organizer, leader, and performer.*
Aaron's story is one that runs the gamut: pain, setbacks, determination, failure, motivation, and unimagined success. His attitude is contagious, showcasing Wheelz and possibilities — challenging perception and inspiring the world along the way. I downloaded the book and can't wait to read it.
When companies like Hot Wheels realize awesomeness comes in many shapes and sizes, one is inspired and wants more companies to embrace this school of thought.
It's hard to imagine, but Hot Wheels turned 50 last year, having produced six billion "vehicles" along the way. For my part, I stood in line at Comic-Con 2018 just as giddy as those young women to snap up a 1968 Gold Cougar, one of their 50th Anniversary editions. I also recommend the 2017 documentary, "Hot Wheels: Redlines to Treasure Hunts." Thanks Mom and Dad for helping me build my collection growing up — a stocking stuffer that I always loved.
You never know when you'll meet someone who shares a passion and teaches you something new and wonderful. So thank you, to the sweet, exuberant young women at my neighborhood grocery store, for deepening my knowledge of an already lifelong passion.
Stay connected with news and updates!
Join our mailing list to receive the latest news and updates from our team.
Don't worry, your information will not be shared.
We hate SPAM. We will never sell your information, for any reason.