BUILD A BETTER US – SHAREPOINT CONFERENCE 2019 - #CELEBRATEUS
May 13, 2019
Come to a session. Join a meetup. Engage online. Celebrate together.
THE DIVERSITY AND INCLUSION PROGRAM RETURNS TO SHAREPOINT CONFERENCE 2019
Heading to Las Vegas, May 21-23, 2019 for the SharePoint Conference? Mark your calendar for our Diversity & Inclusion Programming all week at the event. Track "DIV" on the conference website.
The Diversity & Inclusion track starts Tuesday morning just after the Microsoft keynote with:
13 sessions

3 executive leadership panels

5 breakfast/lunch meetups on a variety of topics by Microsoft Employees, Microsoft MVPs and community members

Welcome reception on Tuesday evening after the expo reception
The Diversity and Inclusion Track at SharePoint Conference will showcase discussions around the following topics:
Communication styles across the generations

Building a diverse tech team

Growth mindset in Office 365

Executive presence and personal branding

Leading with empathy and other qualities of great contributors

Belonging, mentorship, and parenting

Leadership panels

Fireside chat

Burnout and mental health

Accessibility
The Diversity and Inclusion program looks to reflect topical issues of people of different backgrounds, experiences, perspectives as well as gender, race, religion, ethnicity, and sexual orientation. This track hopes to provide a dialogue where openness and transparency demonstrate that diverse and inclusive teams are better for business and our world.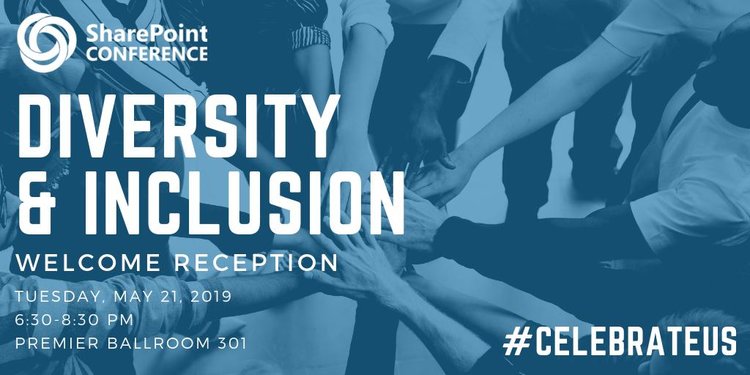 DON'T MISS THE DIVERSITY & INCLUSION WELCOME RECEPTION!
Tuesday, May 21, from 6:30-8:30 pm right after the Expo Reception in Premier Ballroom #301.
Drop by, stay for a little bit or the full 2 hours for eats, drinks and amazing networking opportunities. Capacity is limited and so are the drink tickets - be sure to get there early. Event is 21+ and over with ID and conference pass.
---
I am thrilled to be presenting as part of the track:
BREAKFAST MEET-UP: BUILDING YOUR PERSONAL BRAND
WEDNESDAY, MAY 22 | 7:30AM - 8:30AM | EXPO HALL (MARQUEE BALLROOM)
Have breakfast with me and we'll talk about why your personal brand in important and how to get the most out of it.
WHAT BURNING MAN TAUGHT ME ABOUT BELONGING
THURSDAY, MAY 23 | 2:00PM - 3:00PM | PREMIER BALLROOM 301
Belonging is when others take the time to know you, take care of you and include you for all the things you are. This word also means when you feel welcome, included and a part of the team. We spend over half our lives in our workplaces. Feeling like you belong in your company is a large part of getting up out of bed and knowing the contributions you make will be heard and respected. Join Heather Newman, Microsoft MVP and CMO of Content Panda to hear how Burning Man and the SharePoint Community taught her about belonging and steps you can take in your role to be a leader in helping others feel like they belong. Building community starts with how we treat each other.
I will also be moderating the following panels:
LEADING FROM THE TOP WITH D&I INITIATIVES #1
TUESDAY, MAY 21 | 1:45PM - 2:45PM | PREMIER BALLROOM 301
Join us for an intimate conversation about being an ally and driving diversity and inclusion within the OneDrive and SharePoint team at Microsoft.
Panelists:
Denise Trabona | Principal Design Manager | Microsoft
Adam Harmetz - Partner GPM on SharePoint and Office 365 - Microsoft
Dux Raymond Sy - CMO | AvePoint
LEADING FROM THE TOP WITH D&I INITIATIVES #2
WEDNESDAY, MAY 22 | 4:15 PM - 5:15 PM | PREMIER BALLROOM 301
Join us for an intimate conversation about being an ally and driving diversity and inclusion within the OneDrive and SharePoint team at Microsoft.
Panelists:
Marcella Silva | Principal Design Research Manager | Microsoft
Ed Averett | Principal Program Manager, OneDrive | Microsoft
Zach Rosenfield | Principal Group Program Manager, SharePoint & OneDrive | Microsoft
Tracy van der Schyff | Office 365 Coach & Catalyst | The Guid Stuff Ltd
Check out the full schedule.
Get Involved
Engage with the broader Diversity and Tech Community. Join the Microsoft Tech Community Diversity and Tech conversation at aka.ms.diversityandtech.
Celebrate 10 years of Women in SharePoint throughout the week and during the sessions and pick up some fun giveaways. Follow - @womeninsp.
Follow the speakers. Check out my Twitter list of the D&I Speakers.
Haven't registered yet? There's still time! Use code CONTENTPANDA50 to save $50 off your conference pass.
Looking forward to seeing you at the conference!
Stay connected with news and updates!
Join our mailing list to receive the latest news and updates from our team.
Don't worry, your information will not be shared.
We hate SPAM. We will never sell your information, for any reason.